Hiroshi ARAI
|
Technical Translator
---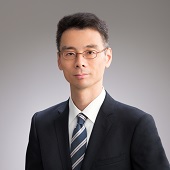 After working for a major translation agency as salesperson and checker in patent translation section, Hiroshi Arai worked for a major patent office as patent translator (English & German to Japanese, chemical section), and as patent engineer for about 10 years.
Expertise
Organic Chemistry (esp. polymer, liquid crystal), Inorganic Chemistry (esp. metal, glass, material, catalyst)
Education
MA, German Literature, Tokyo Metoropolitan University
BA, Fuculty of German studies, Tokyo University of foreign Studies
Publications
Hiroshi Arai, Human translation vs. Google translation - Case Study of Range of Acceptable Translation and Appropriate Translation in relation to Post Editing, Nippon Intellectual Property Translation Journal (NIPTA)(2020).
Languages
Japanese(native)
English
German
Affiliations/Certifications
Intellectual Property Translation Proficiency Examination, Grade 1 (English to Japanese, Chemistry) (2010)
2nd Grade Certified Specialist of Intellectual Property Management (administration) (2011)
English Technical Writing Test, Grade 2 (2012)
Japanese Language Teaching Competency Test (2019)