Tomonori MORI, Ph.D.
|
Patent Attorney
---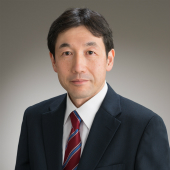 Tomonori Mori taught polymer chemistry and organic synthetic chemistry with a basis in carbohydrate chemistry during his years in academia, research, and business. He joined the firm in 2014.
Expertise
Organic Chemistry, Carbohydrate Chemistry, Polymer Chemistry, Coordination Chemistry, Inorganic Chemistry, Bioinorganic Chemistry, Bioorganic Chemistry, Analytical Chemistry
Education
BS, MS, PhD, Applied Chemistry, Keio University
Publications
Enzymatic Polymerization: In Vitro Synthesis of Glycosaminoglycans and Their Derivatives ACS Symposium Series, 900, Polymer Biocatalysis and Biomaterials, pp. 217-231 (2005).
Synthesis of carbosilane dendrimers having peripheral mannose and mannobiose Tomonori Mori, et al., Tetrahedron, 61, 2751-2760 (2005).
Languages
Japanese (native)
English
Affiliations/Certifications
Japan Patent Attorneys Association (JPAA)
The Chemical Society of Japan
The Society of Polymer Science, Japan
The Japanese Society of Carbohydrate Research
Japanese Society for Chitin and Chitosan
The Institution of Professional Engineers, Japan
Certified Specialist Association of Intellectual Property Management
Seminars
Lecture, Tokyo Polytechnic University, Faculty of Engineering, October 15, 2020
Lecture, Tokyo Polytechnic University, Faculty of Engineering, September 26, 2019