Jeroen VAN DER DONCK
|
Deputy Manager
---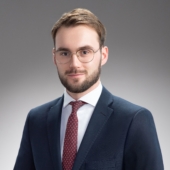 Jeroen van der Donck is a member of the International Affairs Department where he assists the existing and prospective clients of Sonoda & Kobayashi.
Before joining the firm, Jeroen worked in Brussels for 4,5 years. In the first years there, he was employed in an organisation that supported Japanese firms wanting to do business in Europe and vice-versa. He helped set-up partnerships between different companies and also organised and presented at seminars on Japanese business culture.
Later, he moved to an organisation that represented the interests of European public banks toward the institutions of the European Union. Here he tracked developments on EU financial regulation and reached out to key decision-makers. He joined the firm in May 2020.
Expertise
Business Development, International client relations, Comparative Law.
Education
MA, International Public Management, Sciences Po Paris , Paris School of International Affairs (Paris Institute of Political Studies).
BA, Liberal Arts and Sciences, the Univeristy College Utrecht, Utrecht University.
Languages
Dutch (native)
English
French
Japanese
German
Affiliations/Certifications