Julie TSAI(博士)
|
技术翻译 专利工程师
---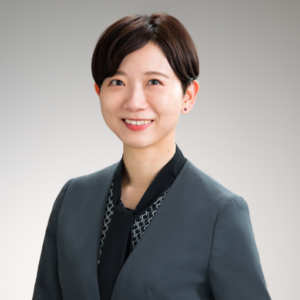 Julie女士出身台湾,毕业于多伦多大学,因其在细胞内信号级联对脂蛋白代谢的影响方面的研究而获得博士学位。她于2009年加入本所,并基于其在生命科学领域的丰富教育背景而担任技术翻译和分析师。自此之后,她通过与发明人的会谈而加深了对发明及相关问题的理解,在为跨国企业处理PCT专利申请方面积累了丰富的技能经验此外,她还拓宽了自己在化妆品、有机和无机化学方面的知识。现在她还致力于中国客户的开拓和维护工作。
Expertise
生物学、 生物技术、 医学、 免疫学、 药学、 诊断学、 农学、 遗传工程、 化学工程、 化妆品、 微生物、 植物、 动物、 医疗器械
Education
加拿大女王大学,生物化学学士学位
多伦多大学,实验室医学与病理生物学博士学位
Publications
Su Q., Tsai J., Xu E., Qiu W., Bereczki E., Santha M., Adeli K. "Apolipoprotein B100 acts as a molecular link between lipid-induced endoplasmic reticulum stress and hepatic insulin resistance." Hepatology. 2009 Jul;50(1):77-84.
Tsai J., Zhang R., Qiu W., Su Q., Naples M., Adeli K. "Inflammatory NFkappaB activation promotes hepatic apolipoprotein B100 secretion: Evidence for a link between hepatic inflammation and lipoprotein production." Am. J. Physiol. Gastrointest. Liver Physiol. 2009 Jun;296(6):G1287-98.
Qiu W., Federico L., Naples M., Avramoglu R.K., Meshkani R., Zhang J., Tsai J, Hussain M., Dai K., Iqbal J., Kontos C.D., Horie Y., Suzuki A., Adeli K. "Phosphatase and tensin homolog (PTEN) regulates hepatic lipogenesis, microsomal triglyceride transfer protein, and the secretion of apolipoprotein B-containing lipoproteins." Hepatology. 2008 Dec;48(6):1799-809.
Tsai J., Qiu W., Kohen-Avramoglu R., Adeli K. "MEK-ERK inhibition corrects the defect in VLDL assembly in HepG2 cells indicating a key role of ERK in hepatic VLDL-apoB assembly." Arterioscler. Thromb. Vasc. Biol. 2007 Jan;27(1):211-8.
Qiu W., Kohen Avramoglu R., Rutledge A.C., Tsai J., Adeli K. "Mechanisms of glucosamine-induced suppression of the hepatic assembly and secretion of apolipoprotein B-100-containing lipoproteins." J. Lipid Res. 2006 May; 47: 1749-61.
Qiu W., Kohen-Avramoglu R., Mhapsekar S., Tsai J., Austin R.C., Adeli K. "Glucosamine-induced endoplasmic reticulum stress promotes ApoB100 degradation: evidence for Grp78-mediated targeting to proteasomal degradation." Arterioscler. Throm. Vasc. Biol. 2005 Mar; 25 (3): 571-7.
Wright T., Tsai J., Jia Z., Elliott B.E. "Inhibition by copper(II) binding of hepatocyte growth factor (HGF) interaction with its receptor Met and blockade of HGF/Met function." J. Biol. Chem. 2004 Jul 30;279(31):32499-506.
Affiliations/Certifications