Julie TSAI, Ph.D.
|
Technical Translator, Patent Engineer
---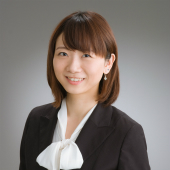 Julie Tsai received her PhD from the University of Toronto for her studies on the effects of intracellular signaling cascades on lipoprotein metabolism.
She joined the firm in 2009 as a technical translator and analyst based on her extensive background in the life sciences.
She has since acquired tremendous skill in patent PCT filings for International corporations having R&D centers in Japan. Meeting with inventors has deepened her understanding of the inventions and related issues.
She has also broadened her knowledge of organic and inorganic chemistry for cosmetics.

Expertise
Biology, Biotechnology, Medicine, Immunology, Diagnosis, Genetic Engineering, Micro organisms
Education
PhD, Laboratory Medicine and Pathobiology, University of Toronto
BS, Biochemistry, Queen's University (Canada)
Publications
Su Q., Tsai J., Xu E., Qiu W., Bereczki E., Santha M., Adeli K. "Apolipoprotein B100 acts as a molecular link between lipid-induced endoplasmic reticulum stress and hepatic insulin resistance." Hepatology. 2009 Jul;50(1):77-84.
Tsai J., Zhang R., Qiu W., Su Q., Naples M., Adeli K. "Inflammatory NFkappaB activation promotes hepatic apolipoprotein B100 secretion: Evidence for a link between hepatic inflammation and lipoprotein production." Am. J. Physiol. Gastrointest. Liver Physiol. 2009 Jun;296(6):G1287-98.
Qiu W., Federico L., Naples M., Avramoglu R.K., Meshkani R., Zhang J., Tsai J, Hussain M., Dai K., Iqbal J., Kontos C.D., Horie Y., Suzuki A., Adeli K. "Phosphatase and tensin homolog (PTEN) regulates hepatic lipogenesis, microsomal triglyceride transfer protein, and the secretion of apolipoprotein B-containing lipoproteins." Hepatology. 2008 Dec;48(6):1799-809.
Tsai J., Qiu W., Kohen-Avramoglu R., Adeli K. "MEK-ERK inhibition corrects the defect in VLDL assembly in HepG2 cells indicating a key role of ERK in hepatic VLDL-apoB assembly." Arterioscler. Thromb. Vasc. Biol. 2007 Jan;27(1):211-8.
Qiu W., Kohen Avramoglu R., Rutledge A.C., Tsai J., Adeli K. "Mechanisms of glucosamine-induced suppression of the hepatic assembly and secretion of apolipoprotein B-100-containing lipoproteins." J. Lipid Res. 2006 May; 47: 1749-61.
Qiu W., Kohen-Avramoglu R., Mhapsekar S., Tsai J., Austin R.C., Adeli K. "Glucosamine-induced endoplasmic reticulum stress promotes ApoB100 degradation: evidence for Grp78-mediated targeting to proteasomal degradation." Arterioscler. Throm. Vasc. Biol. 2005 Mar; 25 (3): 571-7.
Wright T., Tsai J., Jia Z., Elliott B.E. "Inhibition by copper(II) binding of hepatocyte growth factor (HGF) interaction with its receptor Met and blockade of HGF/Met function." J. Biol. Chem. 2004 Jul 30;279(31):32499-506.
Languages
English (native)
Chinese (native)
Japanese
Affiliations/Certifications