三国 修 (博士)
|
专利代理人
---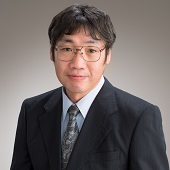 三国先生硕士毕业后任职于制药公司14年。在此期间,参与国家基因治疗项目而借调至千叶大学大学院。之后任职于东京都大型知名专利事务所8年。2016年4月加入本所。
Expertise
有机化学,无机化学,高分子化学,分析化学,材料化学,医药化学,生物工程,生物化学,食品化学
Publications
Reconstitution of telomerase activity utilizing human catalytic subunit expressed in insect cells. Mikuni O, Trager JB, Ackerly H, Weinrich SL, Asai A, Yamashita Y, Mizukami T, Anazawa H. Biochem Biophys Res Commun. 2002 Oct 18;298(1):144-50.
Identification of the prfC gene, which encodes peptide-chain-release factor 3 of Escherichia coli. Mikuni O, Ito K, Moffat J, Matsumura K, McCaughan K, Nobukuni T, Tate W, Nakamura Y. Proc Natl Acad Sci U S A. 1994 Jun 21;91(13):5798-802.
Sequence and functional analysis of mutations in the gene encoding peptide-chain-release factor 2 of Escherichia coli. Mikuni O, Kawakami K, Nakamura Y. Biochimie. 1991 Dec;73(12):1509-16.
Affiliations/Certifications