Osamu MIKUNI, Ph.D.
|
Patent Attorney
---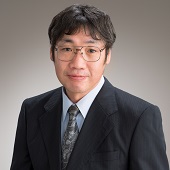 After completing graduate school, Osamu Mikuni worked at a pharmaceutical manufaturer for 14 years. Over this period, he worked on a Japanese state project concerning gene therapy and was assigned to Chiba University's Graduate School. For the next eight years, Dr. Mikuni worked at a major patent firm in Tokyo. He joined Sonoda & Kobayashi in April, 2016.

Expertise
Organic Chemistry, Inorganic Chemistry, Polymer Chemistry, Analytical Chemistry, Material Chemistry, Medicinal Chemistry, Biotechnology, Biochemistry, Food Chemistry
Education
PhD, Department of Biochemistry and Biophysics, Faculty of Science, The University of Tokyo
BS, Biochemistry, Faculty of Science, The University of Tokyo
Publications
Reconstitution of telomerase activity utilizing human catalytic subunit expressed in insect cells. Mikuni O, Trager JB, Ackerly H, Weinrich SL, Asai A, Yamashita Y, Mizukami T, Anazawa H. Biochem Biophys Res Commun. 2002 Oct 18;298(1):144-50.
Identification of the prfC gene, which encodes peptide-chain-release factor 3 of Escherichia coli. Mikuni O, Ito K, Moffat J, Matsumura K, McCaughan K, Nobukuni T, Tate W, Nakamura Y. Proc Natl Acad Sci U S A. 1994 Jun 21;91(13):5798-802.
Sequence and functional analysis of mutations in the gene encoding peptide-chain-release factor 2 of Escherichia coli. Mikuni O, Kawakami K, Nakamura Y. Biochimie. 1991 Dec;73(12):1509-16.
Languages
Japanese (native)
English
Affiliations/Certifications
Japan Patent Attorneys Association (JPAA)