Alison SANTINO
|
International Affairs Department
---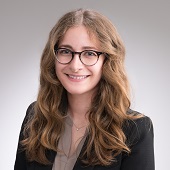 Alison Santino studied Social Sciences and Humanities in Sciences Po Paris before specializing in Business Law during her graduate program. While an undergraduate, she engaged in an extensive Asian studies program which included a one-year exchange in Shanghai, an experience that allowed her to significantly improve her Mandarin. Her experiences in both China and Japan enabled her to develop a deep understanding of both cultures which remains a strong asset.
After a four-month internship in Sonoda & Kobayashi where she conducted Intellectual Property related research, she officially became a member of the International Affairs Department in 2019. She is currently working on increasing her knowledge of comparative law with a focus on Japan, China and Europe.
Expertise
Business Development, International client relations, Comparative Law.
Education
MA, Economic Law and Global Governance Studies, Sciences Po Paris Law School (Paris Institute of Political Studies Law School)
BA, Chinese Language Studies, in exchange program, Shanghai Jiaotong University
BA, Social Sciences and Humanities, Economics and European-Asian studies, Sciences Po Paris (Paris Institute of Political Studies)
Languages
French (native)
English
Mandarin Chinese
Japanese
Affiliations/Certifications