Akira FUJII, Ph.D.
|
Partner, Patent Attorney
---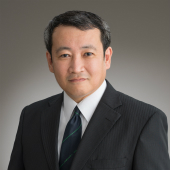 Akira Fujii's academic career includes studies in theoretical physics and numerical computation physics as a researcher.
After receiving his PhD from the University of Tokyo, Dr. Fujii performed his post-doctoral research at the High Energy Accelerator Research Organization (Japan), and worked as a researcher at the University of Bonn and the University of Cologne, Germany. Dr. Fujii also developed system software for information systems.
Dr. Fujii's expertise covers a vast area of physics, including quantum mechanics, plasma physics, electromagnetics, and information processing technologies. Dr. Fujii joined the firm in 2010.
Expertise
Physics, Electromagnetism, Fluid Mechanics, Information Processing, Design, Trademark
Education
PhD, Physics The University of Tokyo
Languages
Japanese (native)
English
Affiliations/Certifications
Japanese Patent Attorneys Association (JPAA)
Seminars
"An Overview of the Japanese Intellectual Property Environment", Seminar for Businesses to Expand Overseas (hosted by the State Intellectual Property Office), 18 November 2015, Beijing (invited speaker)
"An Overview of the Japanese Intellectual Property Environment", IP Salon, 17 November 2015, Beijing (invited speaker)
"Effective IP Protection in Japan", IP in ASIA Forum (hosted by Managing Intellectual Property), 11 June 2015, Munich