Osamu MIKUNI, Ph.D.
|
Patent Attorney
---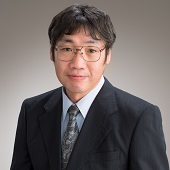 Après avoir terminé son doctorat, Osamu Mikuni a travaillé chez un fabricant pharmaceutique pendant 14 ans. Au cours de cette période, il a travaillé sur un projet national concernant le traitement de l'ADN et a été affecté à l'École d'Etudes Supérieures de l'Université de Chiba. Les huit années suivantes, Osamu Mikuni a travaillé dans un important cabinet de brevets à Tokyo. Il a rejoint le groupe Sonoda & Kobayashi en avril 2016 et traite de cas en biochimie et biotechnologie, chimie organique et inorganique, chimie des matériaux, chimie des polymères et chimie analytique entre autres.
Expertise
Chimie Organique, Chimie Minérale, Chimie Macromoléculaire, Chimie Analytique, Chimie des Matériaux, Chimie Pharmaceutique, Biotechnologie, Biochimie, Science Alimentaire
Education
Doctorat, Département de Biochimie et de Biophysique, Faculté des Sciences de l'Université de Tokyo
Publications
Reconstitution of telomerase activity utilizing human catalytic subunit expressed in insect cells. Mikuni O, Trager JB, Ackerly H, Weinrich SL, Asai A, Yamashita Y, Mizukami T, Anazawa H. Biochem Biophys Res Commun. 2002 Oct 18;298(1):144-50.
Identification of the prfC gene, which encodes peptide-chain-release factor 3 of Escherichia coli. Mikuni O, Ito K, Moffat J, Matsumura K, McCaughan K, Nobukuni T, Tate W, Nakamura Y. Proc Natl Acad Sci U S A. 1994 Jun 21;91(13):5798-802.
Sequence and functional analysis of mutations in the gene encoding peptide-chain-release factor 2 of Escherichia coli. Mikuni O, Kawakami K, Nakamura Y. Biochimie. 1991 Dec;73(12):1509-16.
Languages
Japonais (langue maternelle)
Anglais
Affiliations/Certifications
Japan Patent Attorneys Association (JPAA)