Alison SANTINO
|
IP Coordinator, Département des Affaires Internationales, Juriste
---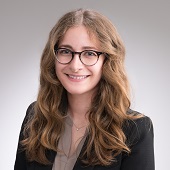 Après avoir effectué des études en Sciences Humaines et Sociales au sein de l'Institut d'études politiques de Paris, Alison Santino a décidé de se spécialiser en droit des affaires et en droit international. Durant sa scolarité, elle a suivi un cursus spécialisé sur le continent asiatique, lors duquel elle a pu améliorer considérablement son mandarin. Ses expériences en Chine et au Japon lui ont permis de développer une compréhension approfondie des deux cultures, ce qui répresente un atout majeur.
C'est à la rentrée 2019 qu'Alison a rejoint Sonoda & Kobayashi en tant que membre de l'équipe des Affaires Internationales. Elle avait eu la chance, lors d'un précédent stage dans nos locaux, de renforcer ses connaissances en droit comparé en prenant part dans des projets en relation avec la Propriété Intellectuelle.
Expertise
Développement commercial, Relation client, Droit comparé
Education
Master Droit Economique, Ecole de Droit, Sciences Po Paris
Diplôme Mandarin Intensif, année d'échange universitaire à Shanghai Jiaotong University
Bachelor en Sciences Humaines et Sociales, spécialité Economie, Sciences Po Paris, campus Europe-Asie
Publications
A.Santino "Comparative Guide, Trademarks in Japan", Mondaq, January 2021
Y.Sonoda, A.Santino "Comparing patent validity standards in invalidation actions at the EPO and JPO" Patent Lawyer Magazine, March/April 2020.
Languages
Français (langue maternelle)
Anglais
Chinois
Japonais
Affiliations/Certifications