Ryo TAKAGI, Ph.D.
|
Patent Attorney
---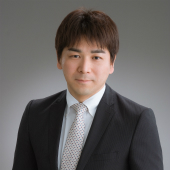 After receiving his PhD for his research in astrophysics entitled "Gamma-ray bursts and internal shocks" from Tokyo Institute of Technology, Dr. Takagi worked as a researcher at Computer Science Research Institute of Tsukuba University, and entered the field of intellectual property law in 2008.
Expertise
Physics, Automotive and Aeronautical Industries, Telecommunication, Software, Robotics, Semiconductors, Data Transmission Systems, Computers, Medical Devices
Education
PhD, Physics Tokyo Institute of Technology
BS, Basic Sciences Yokohama National University
Publications
Takagi, R., Kobayashi, S. "BULK COMPTON EMISSION IN THE GAMMA-RAY BURST INTERNAL SHOCK MODEL", The Astrophysical Journal, 622:L25–L28, 2005 March 20.
Sato, R., Kawai, N., Suzuki, M., Yatsu, Y., Kataoka, J., Takagi, R., Yanagisawa, K., Yamada, H. "EARLIEST DETECTION OF THE OPTICAL AFTERGLOW OF GRB 030329 AND ITS VARIABILITY", The Astrophysical Journal, 599:L9–L12, 2003 December 10.
Languages
Japanese (native)
English
Affiliations/Certifications
Japanese Patent Attorneys Associations (JPAA)